Spirolox Retaining Rings have No Ears to Interfere® with mating components 
Smalley Constant Section Rings are Circular-Grain, coiled not stamped 
Over 6,000 standard retaining rings (1/4" to 16", 6 mm to 400 mm diameters) in Carbon and Stainless Steel 
No Tooling Charges™ on custom retaining rings (.157" to 120", 4 mm to 3000 mm diameters) 
Exotic alloys available 
Smalley retaining rings are easy to install and remove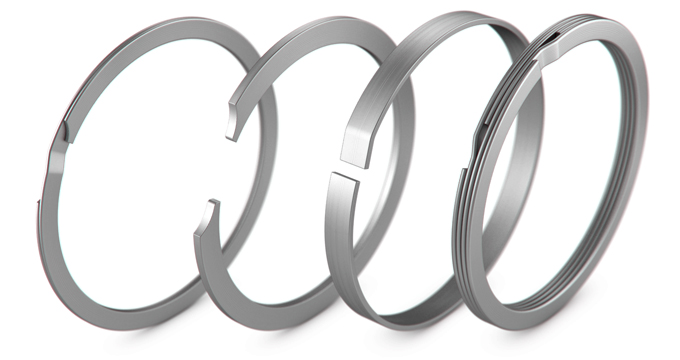 As the leader and innovator in the retaining ring market, Smalley offers thousands of retaining rings to meet any application requirements. Smalley retaining rings are available off the shelf in carbon steel, 302 stainless steel and 316 stainless steel.
Unlike die-stamped circlips / retaining rings, Spirolox® Retaining Rings (Spiral Retaining Rings) and Constant Section Rings are coiled on edge to the exact diameter required. Spirolox Retaining Rings have a uniform cross-section (or to use our terminology, No Ears To Interfere within an assembly) and are free of burrs. Spirolox Retaining Rings meet military and aerospace specifications and are found in thousands of mechanical products around the world.
Smalley also manufactures Laminar Seal Rings.  A Smalley Laminar Seal Ring is a metallic labyrinth seal consisting of multiple rings in a groove. This arrangement of the rings and the specific orientation of the rings are dictated by the application and the severity of the environment.
Custom designs can be manufactured in as little as two weeks. With Smalley's No Tooling Cost manufacturing process, customs, from prototyping to low or high volume requirements, are an affordable alternative if the ring you require is not available. A wide variety of special alloys and finishes are available including: Inconel, Elgiloy, A286, Beryllium Copper and more.