As the preferred supplier to the medical industry, Smalley's Spirolox® Retaining Rings and Wave Springs are found in medical devices from surgical instruments to implantables, imaging equipment to dental tools and more. 

Smalley's unique Edgewinding process allows for custom parts to be manufactured to application requirements quickly and economically. From prototypes to production volumes, Smalley is able to scale production to meet your manufacturing schedule. Medical grade alloys including surgical 316 Stainless Steel, Elgiloy and implantable Titanium are readily available. 
ISO 13485:2016 Certified
We strive to provide the best engineered products, quality, service and deliverability. Our dedication to the medical industry is evident by our certification to ISO 13485:2016.
In addition to supplying the medical industry, we maintain cross-industry Quality Management Systems that include Automotive (ISO/TS 16949:2009) and Aerospace (AS9100C). Smalley is certified to ISO 9001 and committed to environmentally conscious manufacturing techniques with our ISO 14001 certification.
New Small Diameter Capabilities
Medical devices are shrinking and the need for smaller medical rings and medical springs has grown. Smalley continues to push the boundaries of coiling technology, producing the smallest wave springs and retaining rings on the market.
Smalley stocks over 10,000 standards with part diameters as small as .188" or 5 mm. Custom solutions are available from .157" or 4 mm.
Download the expanded C & CM Series brochure now.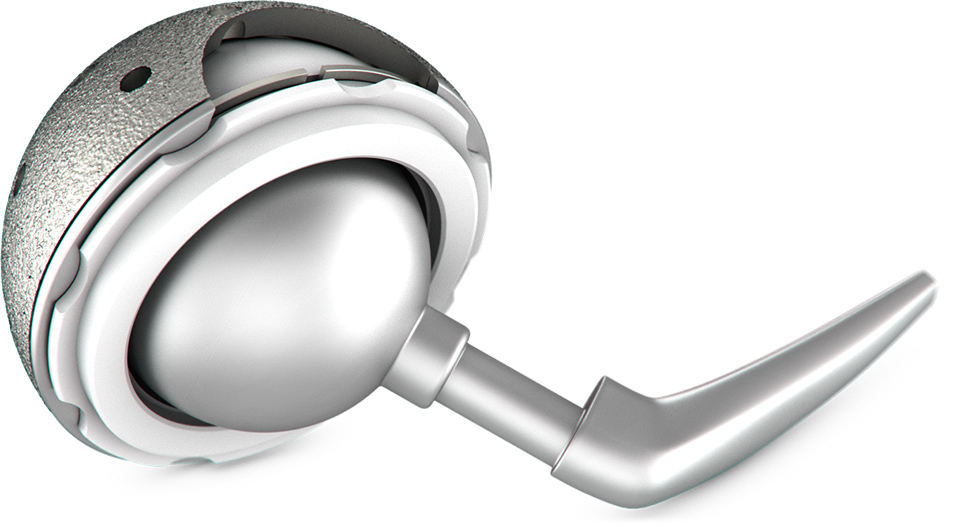 Medical Retaining Rings 
Spirolox retaining rings are commonly used in medical applications because of the availability of stainless steel and other exotic alloys. Unique advantages provided by their design and manufacturing process include:
No Ears to Interfere® with mating assembly components
Spiral rings have no gap or lugs, ideal for tight radial applications
316 stainless steel rings from stock
Interchangeable with stamped ring grooves
A Smalley single-turn retaining ring, used in this hip replacement, operates  
in an internal and external groove at the same time creating an ID/OD Lock.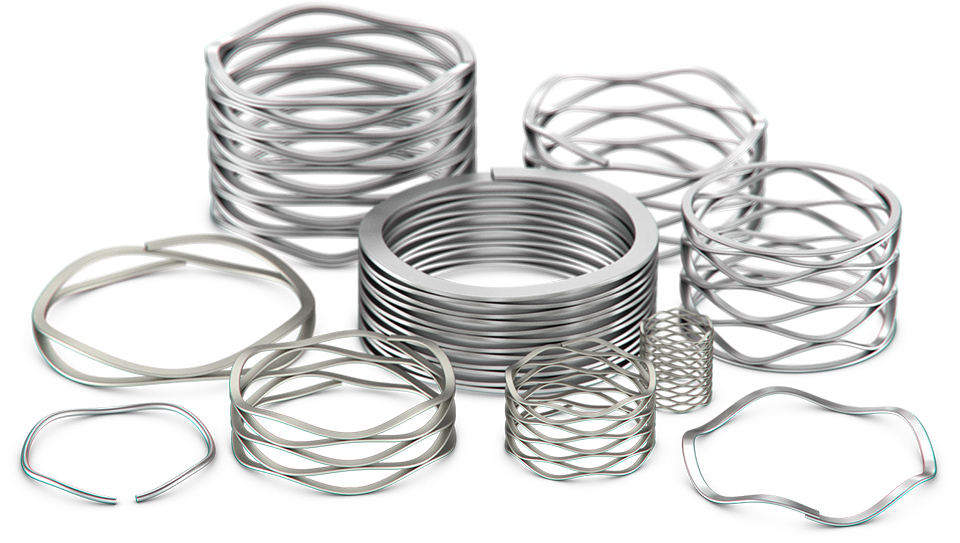 Medical Wave Springs
Smalley Wave Springs are commonly used in the medical industry. Wave springs can provide many benefits over standard coil springs including:
Reduce spring height by up to 50%
Weight savings from less material and a smaller spring cavity
Tangle free packaging for large production volumes
Fit tight radial and axial spaces
Custom Ring and Spring Solutions
Do not sacrifice application performance due to part availability, at Smalley, customs are standard. Our No-Tooling-Cost™ process provides an economical means of manufacturing a custom ring or spring to your exact specifications. Change the diameter, material thickness, alloy or nearly any product characteristic to fit within your assembly.
Smalley engineers have designed or specified thousands of medical parts globally. We work with medical engineers and provide free design consultations, to ensure your unique application considerations are taken into account. Standard or custom, we'll provide you with the right part, in the right material, for your application.
Contact us for a quick and efficient design evaluation or prototypes.