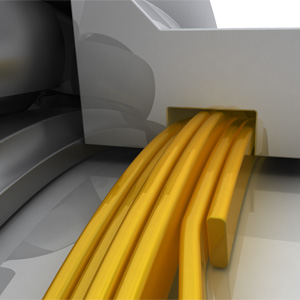 A Smalley Laminar Seal Ring is a metallic labyrinth seal consisting of multiple rings in a groove. This arrangement of the rings and the specific orientation of the rings are dictated by the application and the severity of the environment.
Seals assembly components from contamination
Numerous configurations available
Produced from metal; not rubber, neoprene, or other non-metallic materials
Able to withstand high temperatures and corrosive environments
Laminar Seal Rings Available From Stock
Standard parts from 5/8" to 50" and 15 mm to 1,300 mm. Custom Seals manufactured with No-Tooling-Charges™ Smalley's Laminar Seal Rings are interchangeable with FEY Rings. Laminar Seal Rings installation information is available on our site.
Interchange Listing

Smalley

Fey

QH
AS (FK3)
QHK
ASK (FK3)
QS
IS (FK3)
QSK
ISK (FK3)
QHD
ASD (FK6)
QHKD
ASKD (FK6)
QSD
ISD (FK6)
QSKD
ISKD (FK6)
Consult Smalley Engineering
FK5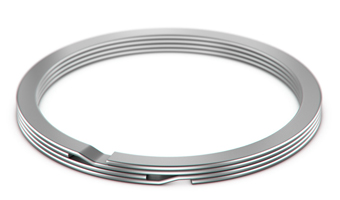 Download the Laminar Seal Rings section from our current catalog here
Laminar Configuration
QSD Series configuration consists of 2, 2-Turn laminar seal rings (FEY Rings) that cling to a shaft. When an environment has excess contamination or an application requires additional protection, laminar seal rings may be used in combination to form an additional seal. This application doubles-up the QSD ring arrangement by incorporating a second set of rings in a secondary groove. To further the sealing effect, this connector has a third ring installed that creates an additional labyrinth.
Application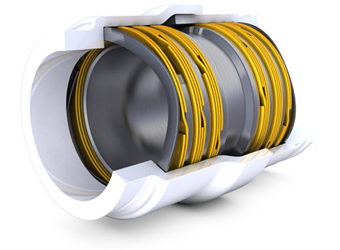 Connector The seal arrangement in this assembly has been custom designed for optimum protection against contamination. Gases build up pressure in a center cavity, protected on both ends from contaminants entering. Assurance has been built into the design so gases are clean as they enter and exit the center cavity.
Environment
High contamination: small particles and gases.