How to Download
Know your Part Number? 

Enter your Part Number in the "Search by Part Number" on the right 

Unsure of your Part Number? 

Use the search menu on the right to "Search by Diameter" 

Click the part number in the search table
On the part page fill out the "Download a CAD Model" form in the bottom right 
Choose the material on the left and enter the CAD Height (wave springs only)
Select "Direct Insert" to insert our component into a blank document as parametric features. This method requires an open CAD session and a free Java plug-in.
Select "Download CAD" to download a 2D or 3D CAD document or graphic. A ZIP file containing the model and instructions will be generated for download. Certain formats require macros. See instructions or help for more information.
Any questions or issues please contact cad@smalley.com
Example
After Searching By Diameter or Searching By Part Number, you will be led to the Part Search Table. Select your part from the table by clicking the Part Number. 
After clicking the part number, you will be led to the to the part page.  Fill out the "Download a CAD Model" form, with cookies enabled, you will only have to fill this form out one time.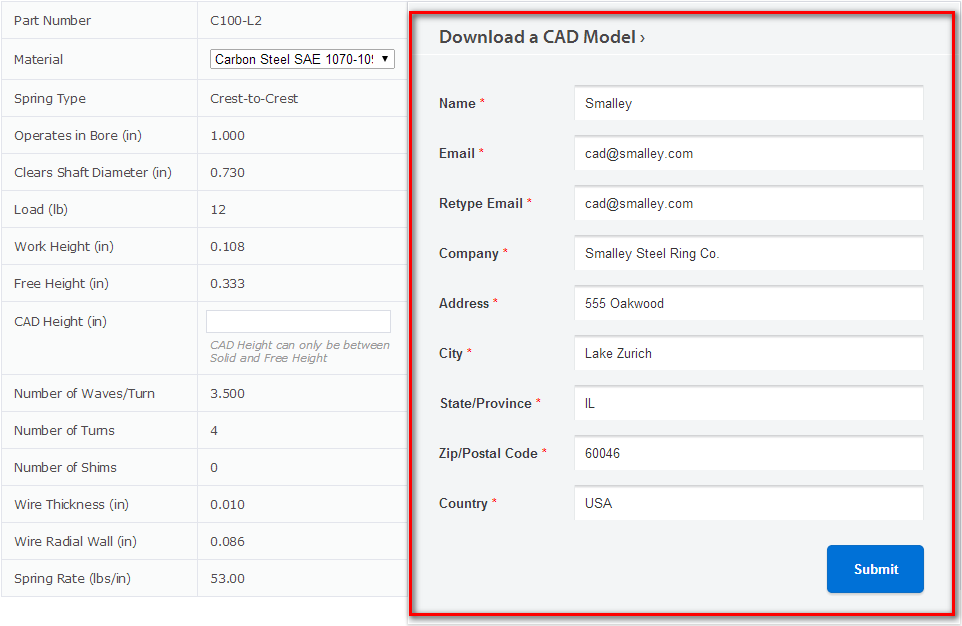 After submitting the form, choose the material and select the CAD Height (wave springs only), then select your format and click "Direct Insert" or "Download CAD".