Smalley has again been awarded the GM Supplier Quality Excellence Award for the fifth consecutive year.
This accolade is awarded only after a supplier passes a rigorous quality audit that covers every aspect of production to delivery. Smalley's commitment to quality and the automotive industry is evident by our pending upgraded certification to IATF 16949:2016.
"What an honor to be recognized once again for our commitment to quality, engineering excellence and customer service by General Motors," states Jamie Madison, Smalley's Director of Quality Engineering. "Recently we were notified that we will be again receiving this award for 2017. GM has thousands of suppliers globally and to be one of only a handful to receive this award annually is remarkable" continued Madison.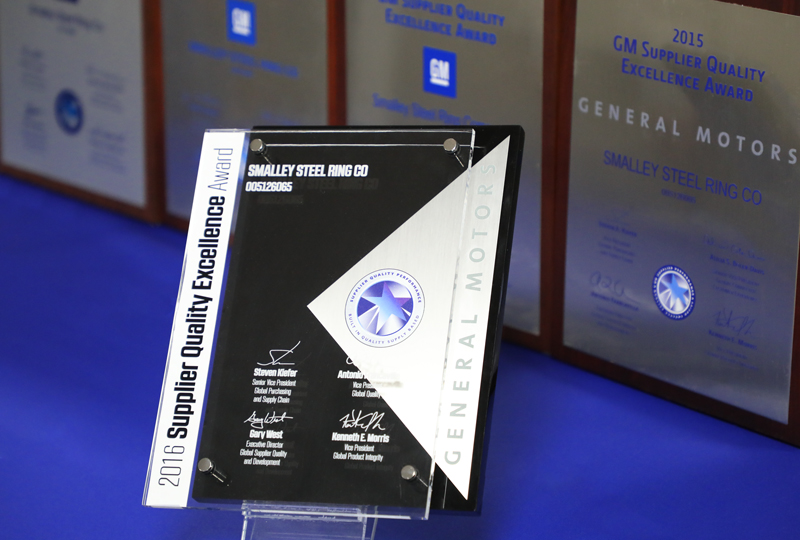 Smalley's Dedication to Quality

Smalley's Total Quality Management philosophy dictates our commitment to Quality, Customer Satisfaction, Compliance with applicable requirements and maintaining the effectiveness of our Quality Management System.

Quality Assurance and Customer Satisfaction are traditions at Smalley and are the foundation from which we have built our company. From the beginning, we have never lost sight of our goal—to supply Smalley customers with uncompromising quality and service by providing superior products with exceptional value. We are dedicated to providing prompt, professional and courteous responses in every facet of design, manufacturing, sales and customer service while looking to the future with continued development and use of the latest technology.

We have established and are continuously improving the Quality Management System upon a program that is geared to meet the following objectives:

Total product conformance in terms of drawings, specifications and contractual requirements.
100% on-time delivery performance.
Complete customer satisfaction.
Exceptional vendor performance.
Learn More About Our Automotive Industry Capabilites