Constant Section Rings (Snap Rings) are retaining rings often specified for heavy duty or impact loading applications.
A Smalley snap ring is produced by edgewinding, with no custom tooling charges, snap rings have been specified for many years in the automotive and heavy equipment industries as a standard choice of engineers.
Smalley offers eight series of snap rings from stock:
Over 1,000 stock sizes
Inch and Metric series rings available
Stocked from .375" to 10" diameters, 13 mm to 300 mm
Customs available from .157" to 120"
New series, interchangeable with Eaton® snap rings
Types of Smalley Snap Rings 
Standard Parts
1/2" - 11" Diameters & 
13 mm – 300 mm Diameters 
Carbon and Stainless Steel
Eaton Style Snap Rings
Smalley offers 4 series of Eaton style snap rings from stock.
Smalley's XAH, XAS, XDH and XDS series contain over 300 rings that are interchangeable with Eaton Snap Rings.
Standard Parts
.375" – 10" Diameters
Carbon and Stainless Steel
The application below features an XAH series snap ring installed in an internal groove. The heavy-duty ring retains the bearing in the housing.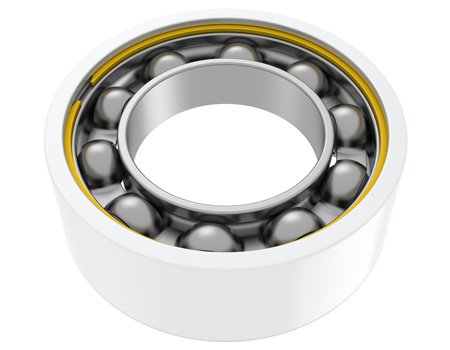 Interchange Listing
| Smalley | Eaton |
| --- | --- |
| XAH | NAN |
| XAS | XAN |
| XDH | ND |
| XDS | XD |
| XNH | IN |
| XNS | EN |
Alternative End Configurations
Additional end types can be manufactured to meet your constant section ring requirements. The ring end configurations pictured below are available from Smalley. Type A, B, C and E rings are available for both internal and external applications; designated by the -H (housing) and -S (shaft) rings.
| | | |
| --- | --- | --- |
| A-H (U-Notch) | A-S (U-Notch) | B-H (Double Scallop) |
| B-S (Double Scallop) | C-H (Double Angle) | C-S (Double Angle) |
| E-H (Single Scallop) | E-S (Single Scallop) | D (Single Angle) |
| F (Pi Cut) | G (Flat Cut) | H (Holes) |